Kids Best Snack Containers for Convenient & Healthy Snacking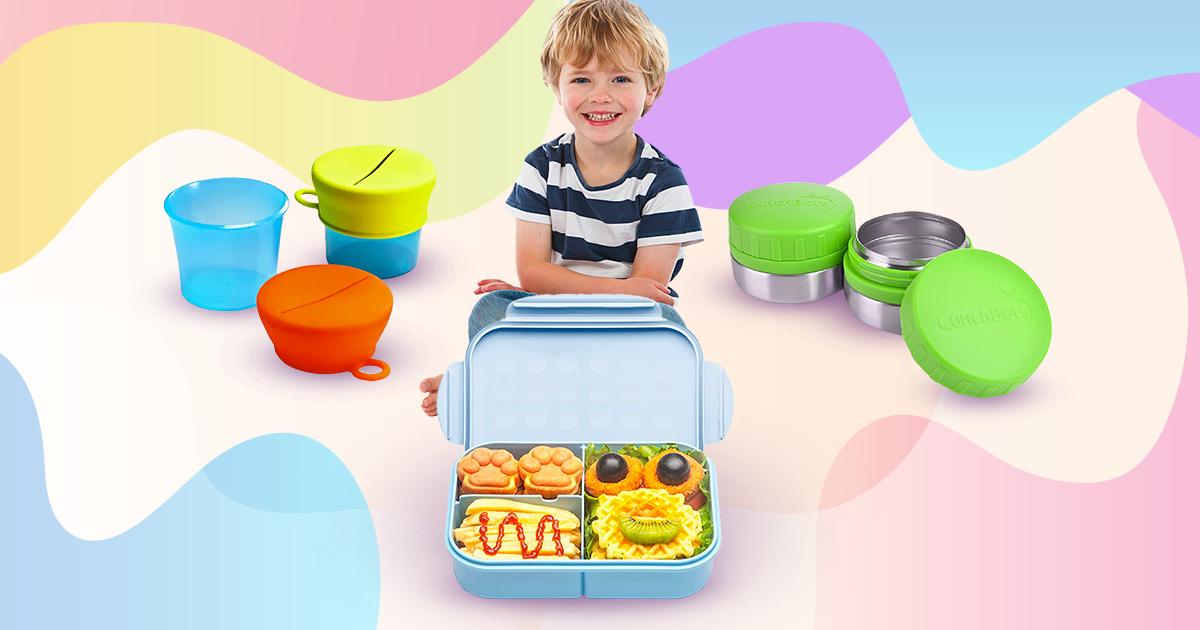 If you're looking for some cool ideas for reusable snack containers, we've got you covered! Having a bunch of snack-hungry kids at home, we know how important it is to find the right plastic containers. Not only are they better for the environment than using plastic bags (which we all know can pile up and cost a fortune), but they also encourage us to pack healthier snacks when we're out and about.
Let's face it, when we're on the go and everyone's starving, those rest stops and convenience stores can be filled with not-so-healthy temptations. That's why we've put together a list of our favorite reusable snack containers that are perfect for hitting the road with the kids. You can fill them up with your choice of nutritious snacks, and it's a win-win for everyone.
As parents, we've learned that there are plenty of super easy, no-fuss snack options with protein that can keep kids satisfied for longer. And we're sure that busy families out there will appreciate having these containers to make their lives a little easier while giving their kids the extra nutrients they need in a food they already love.
So, whether it's snack time or quick meals on the go, we hope these snack containers for kids will be a huge help to you.
Dr. Brown's Toddler Snack Cups with Lids and Handles are the ultimate snack containers. Featuring soft and flexible flaps, they are gentle on little hands while effectively keeping food securely in the cup. The removable handles provide a better grip for toddlers, and the twist-on top ensures that the contents stay secure even if accidentally dropped. With a less-mess cap, spills are minimized, and food stays fresher for longer. These snack cups are also dishwasher safe, BPA-free, and suitable for children aged 9 months and above, making them a fantastic choice for snack time convenience and peace of mind.


The melii Animal Snack Containers with lids are the perfect snack containers for toddlers and kids. With their leakproof and airtight lids, they ensure freshness and prevent messy spills in bags and lunchboxes. The durable animal lids make snacking enjoyable and effortless for both kids and parents. The pack includes three fun animal designs – Lion, Panda, and Bulldog. These containers are easy to clean with their clear body for easy monitoring and are dishwasher safe. Most importantly, they are free of BPA, Lead, PVC, BPS, and Cadmium, ensuring the safety of your little ones.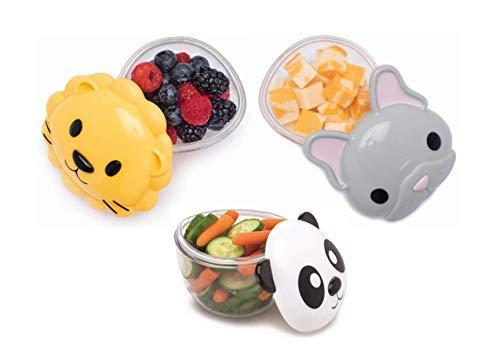 The Bumkins Sandwich Bag is the ultimate snack container for eco-conscious individuals. Made from a waterproof fabric with a zippered closure, these reusable cloth bags not only reduce waste but also serve as versatile organizers for storage and travel. While not completely leakproof, they are easy to clean with wipeable, machine washable, and dishwasher-safe features. Bumkins ensures safety by complying with CPSC and CPSIA standards for BPA, Lead, and Phthalates. With a commitment to functional and fun baby products since 1989, Bumkins is a trusted brand based in Phoenix, Arizona.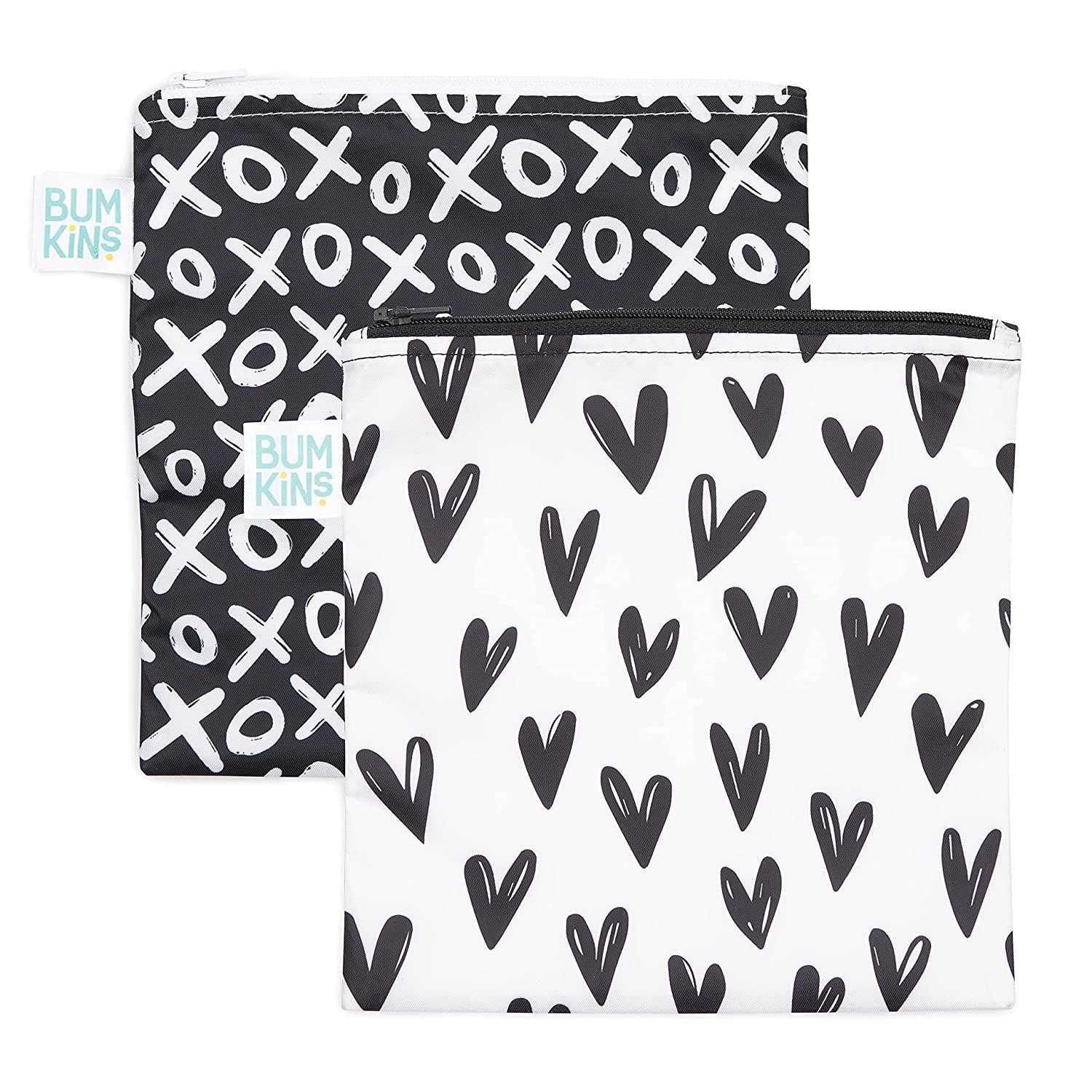 The LunchBots Rounds Leak Proof Snack Container Jar is a top choice for portable snacking. This set of two containers, measuring 3 inches by 2 inches each with a 4 fluid ounce capacity, is perfect for single-serving snacks on the go. With a food-grade 18/8 stainless steel base and BPA-free lids featuring silicone seals, these containers are completely leak proof and ideal for holding snacks like yogurt, applesauce, or pasta salad. The easy-to-use twist-on and off lids make them convenient for opening and closing, and they are also dishwasher safe for easy cleaning.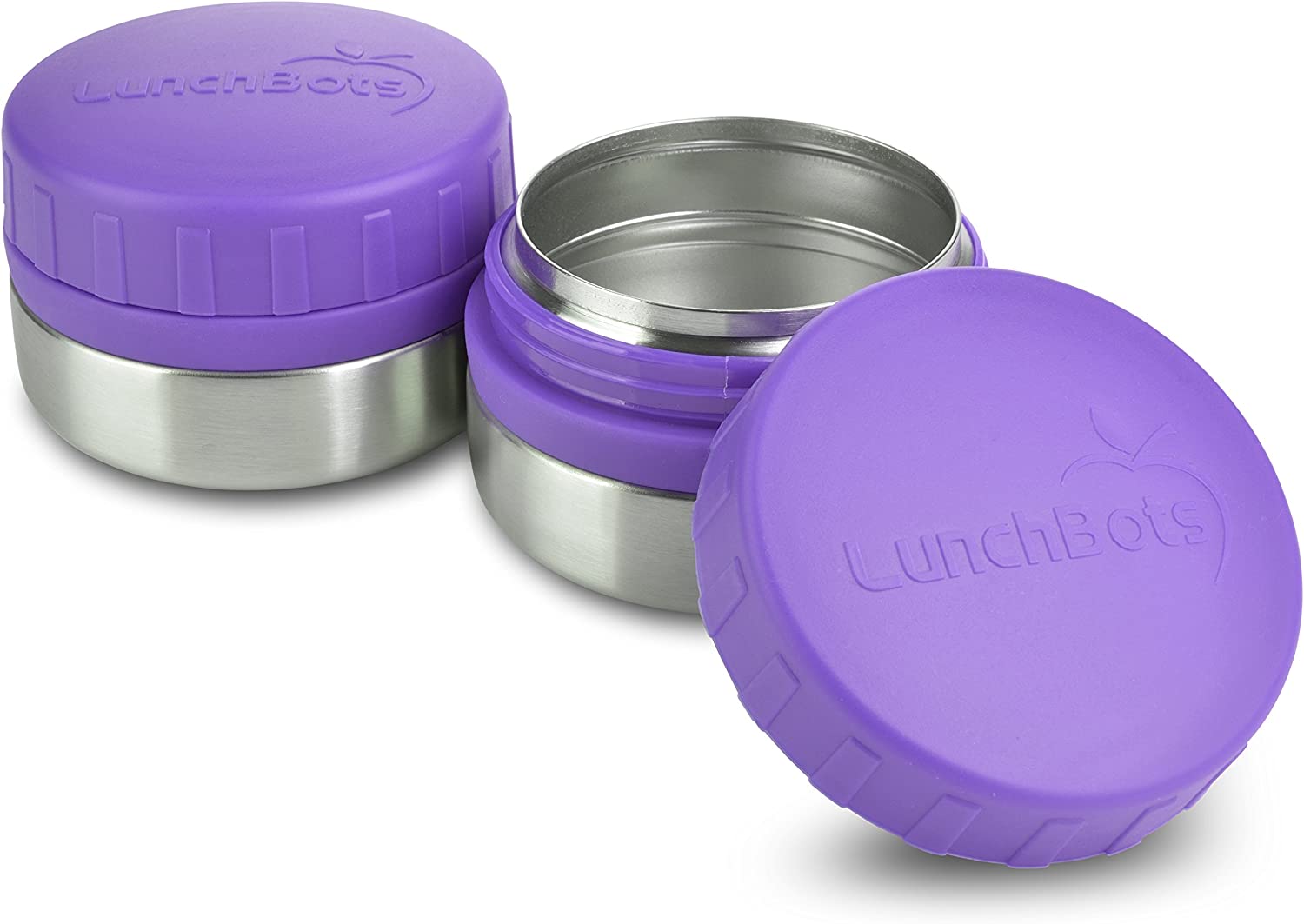 The Boon SNUG Straw with Cup is a fantastic choice for snack containers. With this product, you can easily transform any cup into a spill-proof sippy cup using the handy and versatile straws. The snug straw suction top covers are designed to fit cups with a diameter of 2.5-3 inches, ensuring a secure and leak-proof seal. 
Made from sturdy silicone material that is free from BPA, PVC, and phthalates, these lids are safe for use. They are also easy to clean, either by hand or in the dishwasher. Suitable for ages 12 months and up, this set includes 3 lids and 3 straws, and the straw hole can accommodate any straw size.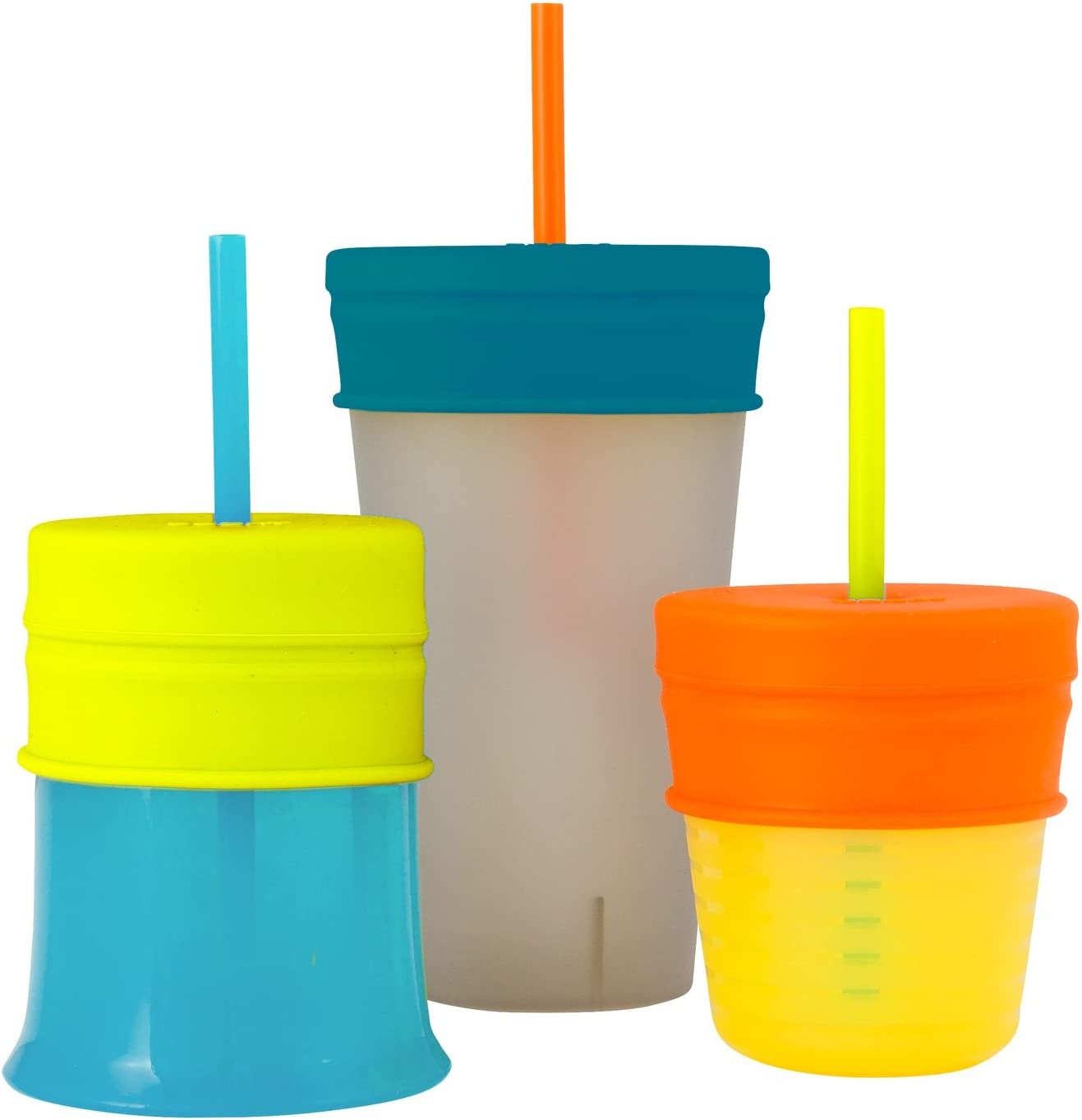 The 3 Sprouts Silicone Bento Box is an excellent choice for snack containers. Made from 100% pure non-toxic platinum silicone, this bento box is free from BPA, PVC, Latex, and Phthalates, ensuring the freshness and healthiness of the food. With leakproof multi-compartments and a lid designed to prevent leaks between each compartment, it caters to picky eaters. 
This bento box is microwave, freezer, oven, and dishwasher safe, making it versatile for various storage and meal preparation needs. It is also environmentally friendly, replacing thousands of disposable bags, and features a stackable design for space-saving convenience. Perfect for kids, it is suitable for school, outings, and travel, with an easy-to-open lid that won't crack or shatter if dropped.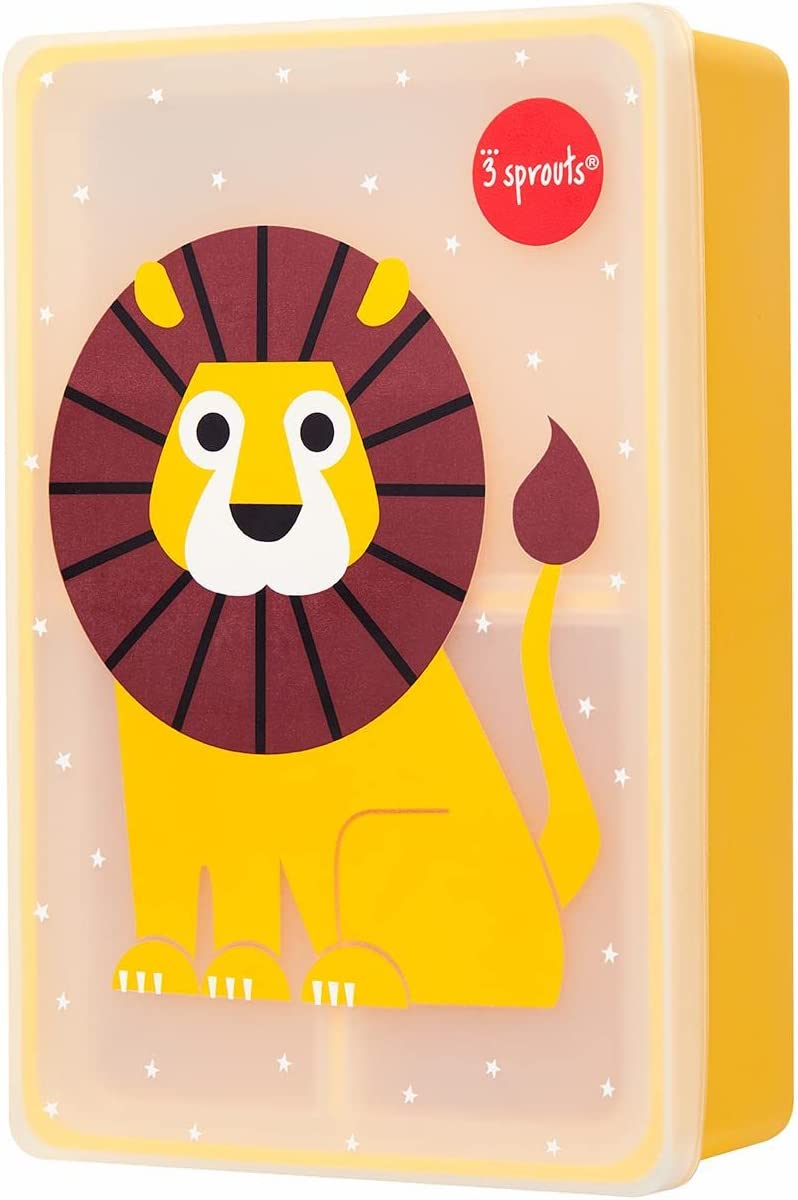 Reusable Snack Container Options for Eco-Friendly Snacking
Eco-parenting enthusiasts will appreciate the impressive reusability of these top snack containers. By choosing reusable containers, you actively participate in waste reduction and the reduction of single-use plastic consumption. These containers have been specially crafted for multiple uses, presenting an excellent sustainable and environmentally conscious option.
Not only do they help in preserving the environment, but they also save you money in the long run by eliminating the need for disposable options. With their durability and long-lasting nature, these snack containers are a fantastic investment that promotes a greener and more responsible lifestyle. So, choose reusable snack containers and make a positive impact on the planet while enjoying your favorite snacks on the go.