Preschool Backpack – Ultimate Bags for Kids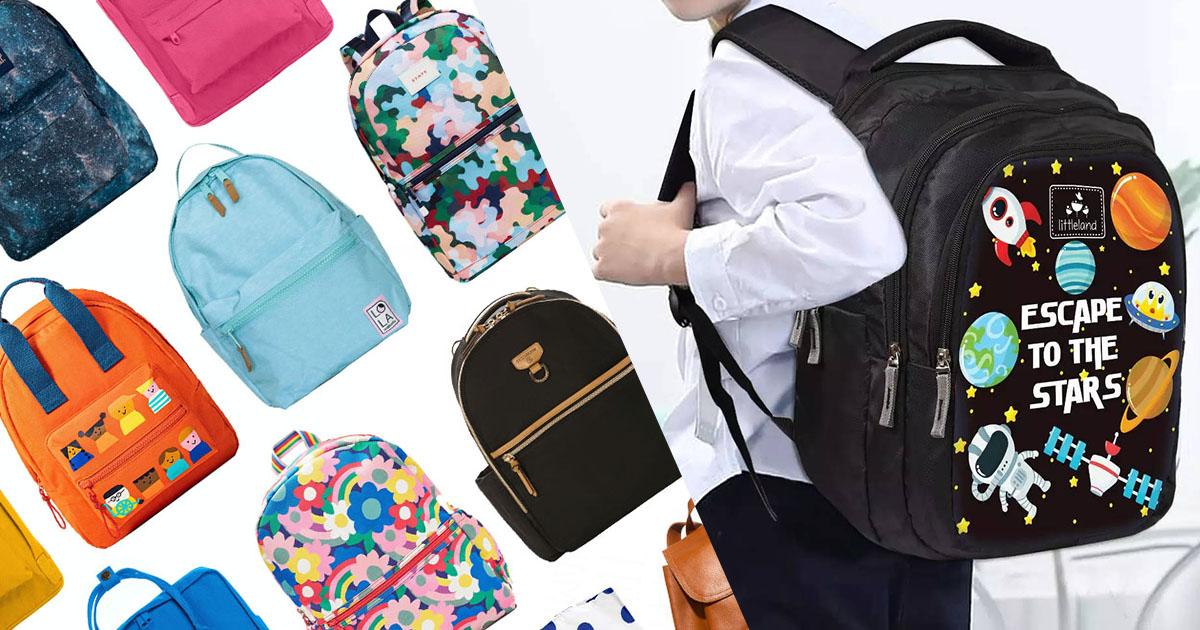 As we curate our annual selection of the hippest backpacks for preschool and kindergarten, we keep in mind how thrilling it is for little ones to choose their very first school gear. Although they adore all school supplies, there is something exceptional about a preschool backpack – it represents the moment they realize they are growing up.
For children starting preschool or kindergarten this year, their initial backpack holds a significant place in their hearts. Our team has dedicated hours to finding the best backpacks for kindergarten specially crafted for preschool and kindergarten children – compact in size but enormous in appeal.
Loungefly Marvel Chibi Avengers Mini Backpack ($48.99)
This Marvel backpack is the latest trend and it's already making waves. Even adults secretly wish to own these cool backpacks for kids – the chibi-style illustrations of all the beloved Avengers are too hard to resist.
This unique backpack for kids is made from material that makes it easy to wipe down, which is essential when it comes to cleaning up after the messy playtime of your youngest kids. So, you can let your kids enjoy their favorite bag without worrying about the inevitable spills and stains.
How To Train Your Dragon: The Hidden World Night & Light Fury Split Mini Backpack ($54.90)
It's impossible not to brighten up when you see this preschool backpack! Designed for How to Train Your Dragon fans, this split backpack is the perfect addition to your child's collection.

It's one of the best backpacks for preschool and features a unique design that is bound to catch anyone's attention. It's split into two halves, with one representing the charming Toothless and the other half the fierce Light Fury – the perfect combination for any fan of the movie series.
Not only is it visually appealing, but the backpack is also practical with its sufficient storage capacity, making it an excellent choice for your child's school gear. The high-quality material ensures that it will last through everyday wear and tear.
So if you have a little one who loves all things How to Train Your Dragon, they will definitely be ecstatic to add this backpack to their collection.
Dabbawalla Neoprene Backpacks ($42-$46)
When it comes to kindergarten backpacks for young kids, Dabbawalla certainly stands out from the crowd. The impeccable size of the backpack makes it easy for young children to carry their essentials around without being weighed down. Additionally, the neoprene material used in the backpack's construction can withstand rough handling and can be easily cleaned in the wash, proving its durability.
But that's not all – the brand offers a wide variety of fun and engaging styles. Whether your little one loves animals, superheroes, or princesses, there is a perfect Dabbawalla backpack out there waiting for them.
So why settle for anything less when you can choose a trusted, reliable, and fashionable brand like Dabbawalla for your child's school gear?
Star Wars Comic Art Backpack ($43.33)
Star Wars backpacks have always been a hit among little kids, but this comic-art Star Wars backpack is in a league of its own. It's perfect for preschoolers, kindergarteners, and early-grade students who love everything about the Star Wars universe.
The unique feature of this backpack is the comic art design, which adds a fun and playful element to the classic Star Wars characters. Even Darth Vader seems a bit more approachable and friendly in this backpack!
This backpack is an excellent choice for young Jedis as it offers sufficient storage space to carry all their school essentials, including books, pencils, and snacks. Additionally, the comfortable straps and back panel make carrying the backpack effortless, allowing your child to focus on enjoying their day.
If your child is a fan of Star Wars, then this backpack is a must-have addition to their collection. It embodies the perfect balance between functionality and style, ensuring that your child is well-equipped for their school day while showing off their love for the iconic franchise.
CAMP Core Canvas Backpack ($35)
This bag features a captivating retro design that will instantly transport you and your child to a bygone era. From vibrant yellows and blues to subdued earthy tones, each color option is simply stunning and adds a touch of whimsy to your child's wardrobe.
So add a dash of fun and a pinch of nostalgia to your child's life with this stylish and practical canvas bag from CAMP.
Metallic Mini Kane Backpacks ($95)
When it comes to trendy backpacks, State has an impressive collection that can keep you browsing their website for hours. Without a doubt, the metallic backpacks from State are some of the most visually stunning options available in their collection. While these backpacks may be priced higher than others, they represent a sound investment for parents looking to keep their fashion-conscious children ahead of the curve.
One of the standout features of this backpack is its durability, ensuring that it will last through multiple school years. But what really makes this backpack unique is its mismatched straps. This quirky element adds an unexpected touch of fun and creativity to the design, making it a perfect choice for kids who love to express their individuality.
If you're searching for a backpack that seamlessly blends fashion and durability, look no further than State's metallic backpack collection. Your child will undoubtedly stand out from the crowd with this fashion-forward accessory that is built to last.
Upgrade your child's school gear with these trendy backpacks today!
Get your little one ready for the upcoming school year with these trendy and durable backpacks for kindergarten! Take advantage of this amazing chance to enhance your child's collection with these chic accessories. Browse our selection now and allow your child to showcase their unique personality while also staying organized and ready for school.