Top Gift Ideas Under $15 For Your Kids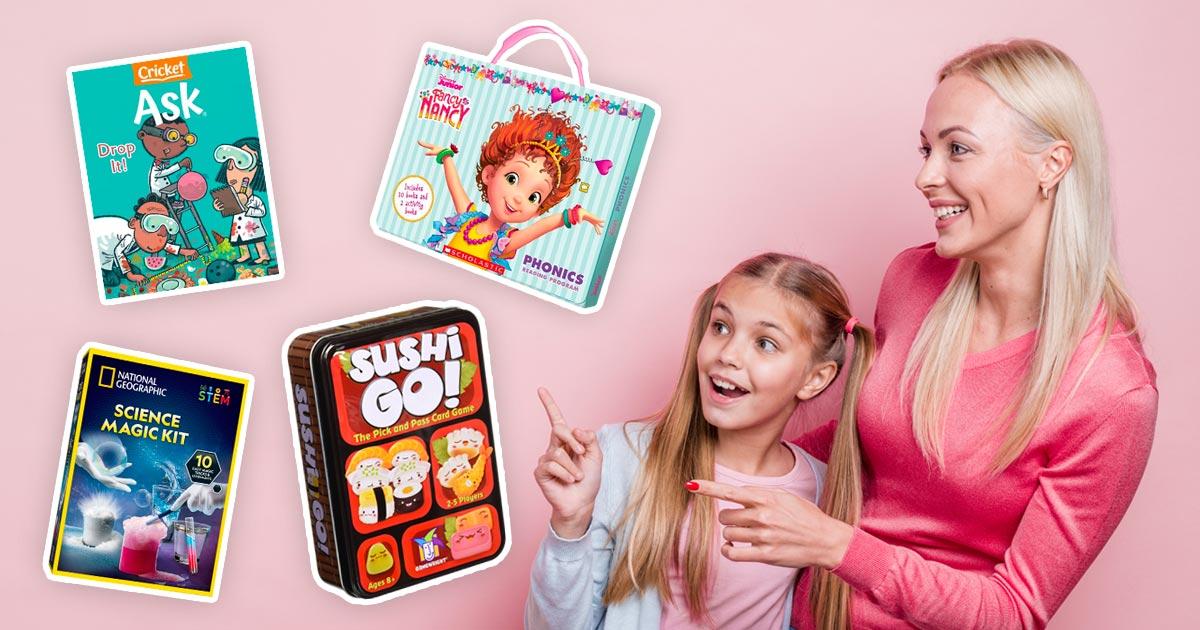 Are you on the hunt for affordable and delightful gift ideas for kids? Look no further! We understand the joy of finding the perfect present without breaking the bank. In this blog post, we've curated a list of 10 amazing gift ideas under $15 that will bring a smile to any child's face. Whether you're searching for a cheap birthday gift or a special surprise for any occasion, these budget-friendly options will make your gift-giving experience a breeze. Let's dive into our handpicked selection of affordable treasures that combine fun, education, and imagination!
Cheap Gifts For Kids that You Can Get
1. Magazine Subscriptions
Give the gift of discovery and entertainment with affordable magazine subscriptions. Delight young readers with age-appropriate titles and topics that cater to their interests, making it a perfect choice for budget-friendly birthday gifts for kids. With a wide variety of options available, magazine subscriptions provide a constant source of learning and fun throughout the year, all under $15. Some examples of subscriptions you can try are:
Ask Magazine by Cricket Media –

Digital Subscriptions

is at $9.99 for 1 year

Zoobooks Magazine by Ranger Rick – Available at $15 a year for

9 issues
2. Books
Ignite young imaginations with the power of storytelling through affordable books. Whether it's thrilling adventures, educational tales, or beloved characters, books make excellent cheap gifts for kids. With numerous options available, you can find engaging titles that fit within your budget, making them a go-to choice for birthday gifts under $15. Some examples of good books are:
Top Secret: Ultimate Invisible Ink Activity Book (Klutz Activity Book) – Available at

Barnes & Noble

for $8.99

Disney Learning: Fancy Nancy Phonics Box Set – Available at

Scholastic

at $12.99
3. Board Games
Bring joy and laughter to gatherings with affordable board games. These inexpensive gift ideas under $15 offer hours of entertainment, strategic thinking, and friendly competition, making them ideal for birthdays or family game nights. From classic favorites to exciting new releases, board games provide endless fun and create lasting memories. Examples of fun board games for your kids are:
Hasbro Gaming Candy Land Kingdom Of Sweet Adventures Board Game – Available at

Amazon

for $12.99

Sushi Go! – The Pick and Pass Card Game – Available at

Amazon

for $11.99
4. Arts & Crafts
Encourage creativity and self-expression with affordable arts and crafts supplies. Perfect for young artists, these cheap gift ideas for kids allow them to explore their artistic talents, create masterpieces, and develop fine motor skills. From coloring sets to DIY craft kits, arts and crafts options under $15 are sure to inspire and delight. Some examples of arts and craft gifts for your kids to try:
Melissa & Doug Scratch Art Rainbow Mini Notes – Available at

Amazon

for $12.99

Marbling Paint Art Kit for Kids – Arts and Crafts for Girls & Boys – Available at

Amazon

for $14.99
5. Science Kits
Spark curiosity and scientific exploration with affordable science kits. These hands-on gift ideas under $15 provide young minds with the tools and instructions for exciting experiments and discoveries. From chemistry sets to nature exploration kits, science kits make excellent birthday gifts for kids who love to explore the world around them. Below are samples of Science kits for your kids to enjoy:
National Geographic Magic Chemistry Set – Available at

Amazon

for $14.49

Dynamo Lab Science Kit for Kids – Available at

Amazon

$11.99
6. Educational Toys
Combine play and learning with affordable educational toys. These cheap gifts for kids under $15 promote cognitive development, problem-solving skills, and imaginative play. From building blocks to interactive learning games, educational toys offer entertainment and educational value, making them a fantastic choice for birthday gifts. Educational toys that your kids can try are:
Lite Brite Ultimate Classic, Light Up Creative Activity – Available at

Amazon

for $13.78

GaHoo 13-in-1 STEM Solar Robot Toys Kit for Kids – Available at

Amazon

for $11.99
7. Fun Puzzles
Challenge young minds with engaging puzzles that offer hours of entertainment and cognitive development. From jigsaw puzzles to brain teasers, these cheap gift ideas under $15 enhance problem-solving abilities, spatial reasoning, and critical thinking skills. Puzzles are a great way to keep kids engaged while providing fun and educational experiences. Check out some of the enjoyable puzzles your kids can solve:

Melissa & Doug Underwater Ocean Floor Puzzle – Available at

Amazon

for $9.69

Elephant Animal Shaped Jigsaw Puzzle – Available at

Amazon

for $12.99
8. Audiobooks
Foster a love for storytelling and literacy with captivating audiobooks. These affordable gift ideas provide access to a world of imagination and adventure, making them perfect for birthdays or special occasions. With a wide range of genres and options available, audiobooks are an excellent choice for cheap gifts for kids under $15. Below are affordable audio websites you can check out or subscribe to for your kids:
9. Personalized Items
Make birthdays extra special with personalized items that add a unique touch to the celebration. Whether it's customized jewelry, clothing, or accessories, these thoughtful gifts under $15 make recipients feel truly special and cherished. Personalized items create lasting memories and show the recipient that you went the extra mile to make their day memorable. Check out some of the awesome personalized items you can get your kids:
VQYSKO Silver Heart Initials Bracelet – Available at

Amazon

for $10.98

Personalized A-Z Letter Piggy Bank – Available at

Amazon

for $12.99
10. Room Decorations or Items
Enhance a child's space with affordable room decorations or items that add charm and personality to their surroundings. From wall decals to night lights, these cheap gift ideas under $15 transform bedrooms into magical havens. Room decorations or items make for memorable and budget-friendly birthday gifts for kids, creating a cozy and enchanting environment. Some examples of items or decorations for your kids room are as follows:
Light up Cute Stuffed Plush with LED Colorful Night Lights – Available at

Amazon

for $12.99

Woodland Animal Friends Pine Tree Wall Decals Stickers – Available at

Amazon

for $12.99
There are Good Cheap Gifts for Kids
Finding the perfect gift for kids doesn't have to be a financial burden. With our list of 10 gift ideas under $15, you can make any child's day brighter without straining your wallet. From captivating books to engaging puzzles, creative art supplies to thrilling board games, this collection covers a wide range of interests and age groups. Whether it's a birthday celebration, a holiday surprise, or simply an act of kindness, these affordable gifts are sure to delight young minds and bring endless hours of entertainment and enrichment. So, go ahead and spread joy without breaking the bank with these fantastic, pocket-friendly options. Happy gifting!