Camping Themed Birthday Ideas – Making Your Birthday Extra Special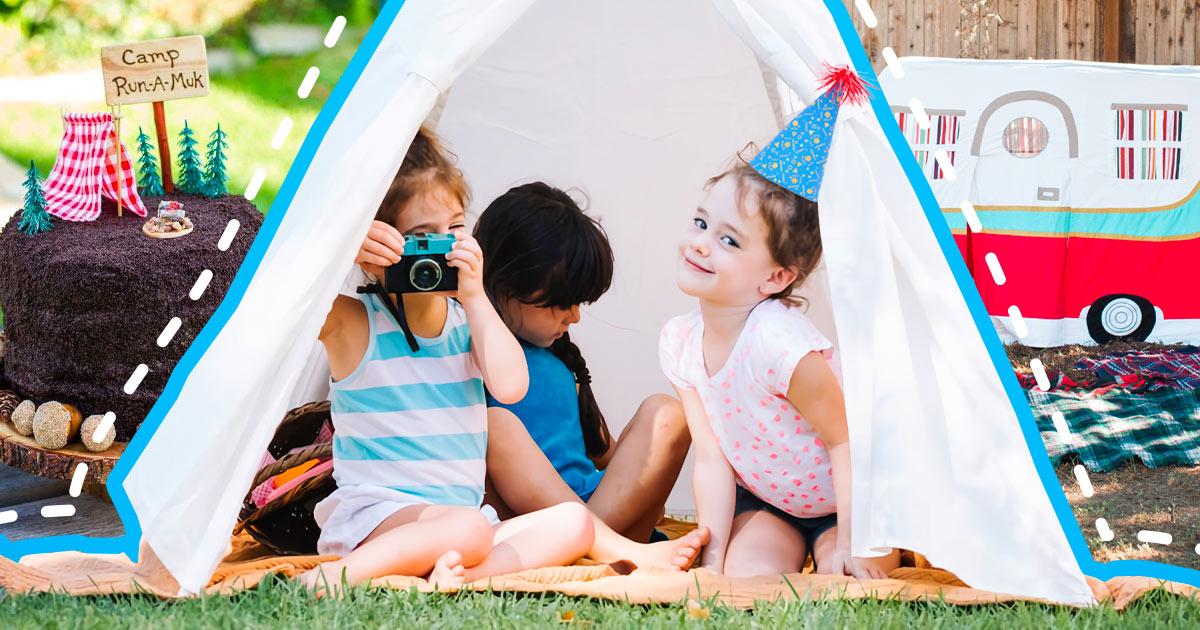 Have you ever thought of throwing a camping birthday party theme? Then, you better stay tuned here and get some vital camping-themed birthday ideas!
You must check out camping-themed parties for both boys and girls! They're a blast! If you want to do something different and fun for your birthday, a camping party is the way to go. Trust me, it's great fun, and you can enjoy many awesome activities with your friends. Picture this: glamping in your backyard, thrilling scavenger hunts, and even some good ol' bingo. We've got all the Camp theme party ideas covered!
Camping-Themed Birthday Ideas – Throw the Party!
How about having a sleepover and pitching tents right in your backyard? Or you can go out and try glamping, sleeping in teepees, or snuggling up in sleeping bags beneath the twinkling stars. And don't worry if a full sleepover isn't possible—you can always do a mock sleepover, where your friends stay until just before bedtime. We've got many awesome camping games, delicious foods, and cool decorations to keep everyone entertained!
Here are some camping-themed birthday ideas to jazz up your party. Plus, there are plenty of activity suggestions and tasty foods you can whip up for the occasion. Let's make this camping-themed party an absolute blast! 
Camping-Themed Party Invitations & Printables
Let's start with your invitations and printables to start the camping-themed birthday ideas. Get ready for some serious fun with this adorable rustic camping birthday party invitation! It's got everything you need to set the camping mood: a cozy tent, a crackling fire with scrumptious s'mores marshmallows, and a friendly bear, all set against a textured kraft brown background. These are simple yet perfect camp theme ideas!
Check out this vibrant camping birthday invitation that will catch everyone's eye! With a light blue tent, a cozy campfire, and tall fir trees, it's the ultimate hit with your little camper. They won't be able to resist the excitement! You won't believe the woodland creatures on this birthday party invitation! We've got a bear, an owl, a spawning salmon, and even a busy squirrel joining the celebration. It's going to be a wild time!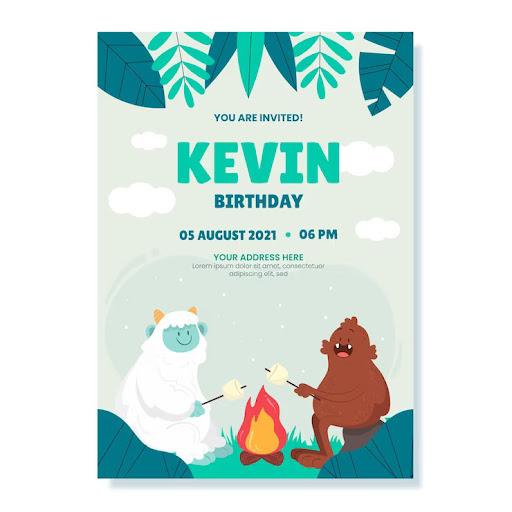 Camping-Themed Party Foods
One of the most anticipates camping bday party ideas is the food. Let me tell you, one of the best things about camping is the food! I get it. Traditional camping grub like tinfoil dinners might not be doable for your camping birthday party. But fret not. You are covered with mouthwatering camping-themed party food ideas that will still bring that outdoor adventure vibe to your gathering. Get ready for a tasty treat! Here are some camping-themed birthday ideas in terms of food you can consider preparing;
S'mores Bars

Cookie S'mores

Campfire S'mores Puppy Chow

Campfire Cupcakes

Pigs in a Blanket

Campfire Taco in a Bag

Camping Hot Dogs

Grilled Potatoes

Camping Cake Toppers

Lemonade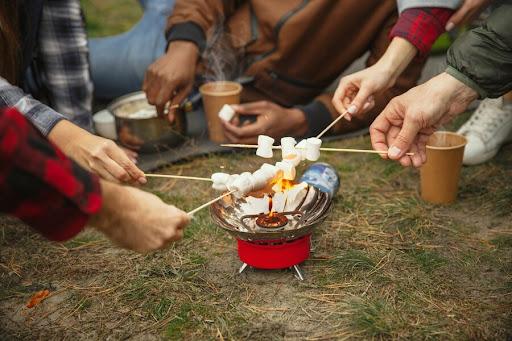 Camping Themed Party Games & Activities
This list of camp theme ideas will only be complete with games and activities. Whether you go all out with a real sleepover or opt for a mock sleepover where guests are picked up later in the evening, you can still have a blast pretending to go to sleep! Picture this: setting up cozy tents in your backyard, complete with comfy sleeping bags and fluffy pillows. 
Then, gather around a crackling campfire, share spooky stories, and play exciting games until it's time for pickup. It's like a camping adventure ending with a cozy slumber, no matter the sleepover logistics. Let the nighttime fun begin! Here are some camping birthday party-themed games and activities you and your guests can play or do:
Camping Charades

Scavenger Hunt

Making Mud Dough

Squirt Gun Race

String Maze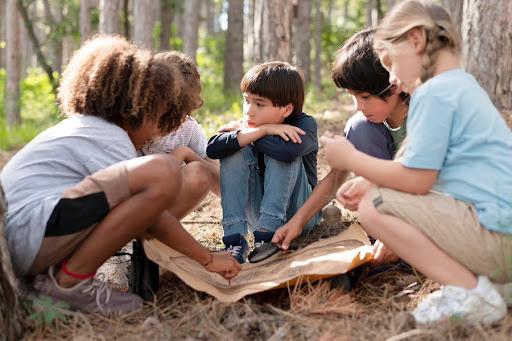 Party Decorations & Favors
Don't forget to make your camping birthday party theme look authentic! So, let's dive into some fantastic camp theme party ideas to create that perfect camping atmosphere. As for the camping-themed party favors, your guests can take them home as a sweet souvenir from the big "campout." You can consider giving some memorable goodie bags in the form of stuff or food. 
So, are you ready to make this party an unforgettable adventure from start to finish? Let these camping-themed birthday ideas help you out!