7 Best Kids Gifts 2023 Any Age Will Surely Love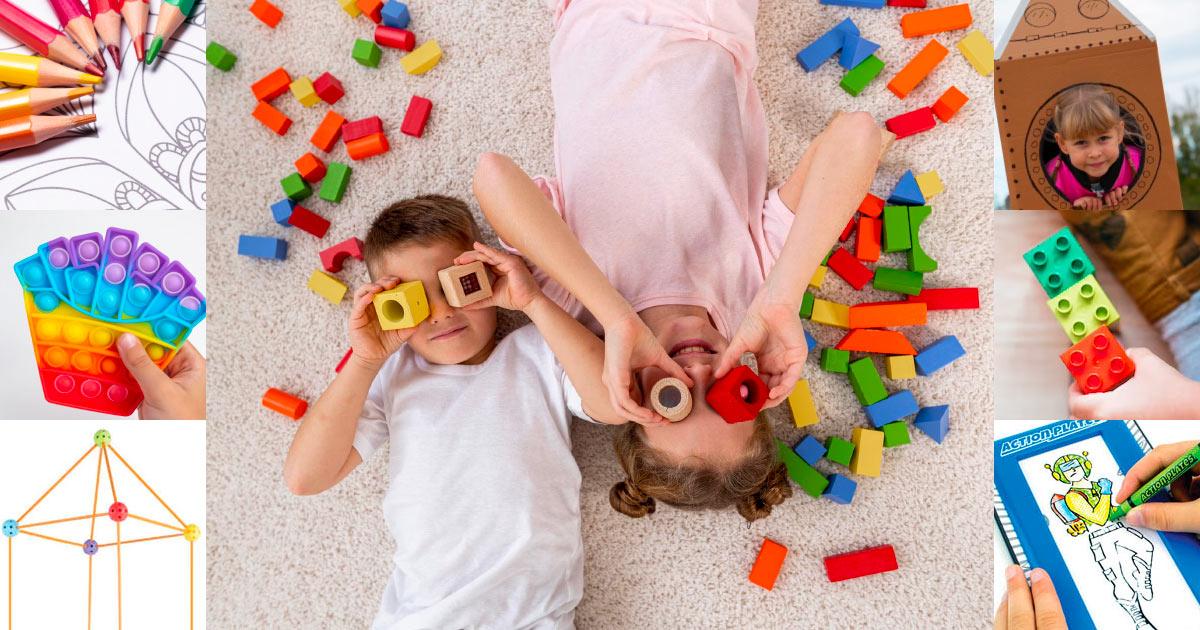 Searching for the perfect gift for a kid can be quite challenging, but it can be relatively easier if you use our list of best kids gifts for 2023—no matter the occasion or your relationship with them. But fear not! We're here to help you navigate the tricky waters of gift-giving and make it a truly unforgettable experience. 
Forget about breaking the bank or going all-out; what truly matters is showing that you've put thought into their age and interests. And when you find yourself in a bind, remember that the gift of books never fails to bring joy. 
So whether you're a doting parent, a proud grandparent, or an excited attendee at a lively birthday bash, our curated guide to the best gifts for kids this 2023 will ensure your gift stands out.
1. Magnetic Foam Building Blocks
Leading the top gift for kids for 2023 is Magnetic Foam Building Blocks. Are you looking for something extra fun to bath time? Look no further than the Magnetic Foam Building Blocks! These fantastic blocks are the perfect soft and easy toys for the tub. 
Not only are they a blast to play with, but Their specially designed magnetic connection system also ensures that they never repel each other, promoting creativity instead of frustration. Plus, they provide a multi-sensory experience with a satisfying click sound that will delight kids. You can check out the Blockaroo Magnetic Foam Building Blocks for this gift.
2. Giant Coloring Books
The phenomenal giant coloring books are following on our list of top kid gifts for 2023. Imagine the joy on their faces as they unravel these colossal coloring adventures, bringing to life intricate cityscapes and awe-inspiring landscapes. These giant coloring posters have become a sensation, captivating kids with their larger-than-life designs bursting with creativity and charm.

As word spread about these remarkable coloring books, their popularity skyrocketed, inspiring countless imitations. But there's nothing quite like the original. These magnificent coloring posters have sparked a wave of creativity, inviting children of all ages to unleash their artistic talents and explore vibrant worlds through color. If your little one is a huge fan of Mickey Mouse, you can consider the Disney Junior Mickey & Minnie Mouse Giant Coloring Book for only $5.25.
3. Pop Fidget Toy
Considered one of the best new toys this 2023 is the Pop Fidget Toy. Prepare to be captivated by the satisfying sensation of popping bubbles with this incredible fidget toy. Available in various vibrant and playful sets, such as burgers, fries, fruit, and popsicles, these pop fidget toys are made from durable rubber that can withstand endless popping sessions without cracking or weakening. The bubbles provide a delightful sensory touch with each gentle press, while the satisfying "pop" sound brings instant relief from anxiety and stress.
So, if you're searching for a gift that offers a playful sensory experience and brings smiles to faces of all ages, look no further. These fidget poppers are the ultimate source of tactile satisfaction, making them a must-have for anyone seeking a little sensory fun in their lives. Get ready to pop, relax, and enjoy the simple pleasure that these captivating toys bring. You buy fidget toys in bulk for $24.95.
4. Crazy Forts
Joining the roster of top gift for kids for 2023 are the Crazy Forts. Get ready to take playtime to a new level with a gift guaranteed to entertain not just one but two or more kids at once! Introducing the ultimate fort-building setup that will unlock a world of endless possibilities for fun and adventure.
Picture the excitement on their faces as they dive into a world of imagination, constructing their own forts, castles, hideouts, or whatever their young hearts desire. With this remarkable fort-building kit, they'll have all the tools and materials they need to create epic structures that will become the backdrop for countless hours of laughter, storytelling, and imaginative play. For your reference, you can buy the Tiny Land Kids-For-Building Kit for $46.99
5. Wooden Playhouses
It's no secret that we adore open-ended play and feel you do too! Brace yourself for a collection of handmade wooden playhouses that are nothing short of extraordinary. From rocket ships that can transport them to outer space to majestic castles fit for royalty, these playhouses are a testament to the boundless power of a child's imagination. But here's the best part: we'll let your kids be the ones to decide what these magical structures truly are. After all, they possess an incredible knack for turning these playhouses into whatever their hearts desire.
Prepare to witness the transformation as any ordinary bedroom magically becomes an enchanting oasis of adventure and creativity. These amazing playhouses are the perfect backdrop for endless storytelling, make-believe, and pure joy. Watch as your children immerse themselves in a fantasy world where they can be astronauts exploring distant planets, knights defending their kingdom, or anything their imagination dreams up. Discover the top trending wooden educational toys for children gaining popularity across the internet.
6. LEGO Kits
While it's easy to be drawn to the latest LEGO Star Wars kits, we're thrilled to highlight their enchanting Elves kits that debuted earlier this year. What makes these sets so special is that they venture beyond any specific movie property, capturing the hearts of children who have outgrown fairies while captivating newfound fans of Maleficent, The Lord of the Rings, and even the mesmerizing world of the Dark Crystal.
Prepare to be enchanted as your children explore the world of LEGO Elves. These kits offer a unique blend of fantasy and imagination, allowing children to embark on epic adventures alongside mythical creatures and heroic characters. From fantastical realms to hidden treasures, these sets unlock a whole new level of creative play that will captivate both seasoned fans and newcomers alike.
7. Action Plates Drawing Set
Last but not least, in our roster of top kid gifts in 2023 are the action plates. Calling all superheroes! Brace yourselves for an ingenious twist on a beloved classic. This year, superheroes are taking center stage (and we all know it, thanks to our superhero-obsessed kids!). And guess what? The geniuses behind Fashion Plates have come up with a brilliant idea to bring back the nostalgia of our youth while giving our little ones the power to create and color their own action heroes.
Prepare to be amazed as these revamped Fashion Plates design kits take imagination to heroic heights. Now, kids can unleash their creativity and design epic superheroes that are entirely their own. The possibilities for hero customization are endless, from the capes to the masks to the emblematic symbols. It's an exciting opportunity for young minds to embrace their inner superheroes and let their imaginations soar.
What is the
Best New Toy for 2023?
Generally, there are loads of kid gifts for 2023 to consider. Aside from the top gift for kids for 2023 listed above. You can also think about buying these toys below:
Handmade Toys

Toy Cars

Handcraft Boxes

Dollhouses

Instax Mini Camera

DIY Bracelet Kits

Stuffed Toys

Slime Kit

Headphones

Books

Consoles

Tablets
So, that wraps up our list of best kids' gifts for 2023. If you have any gift ideas not mentioned here, feel free to share them here!