Growing Out Grey Hair – From Ordinary to Outrageously Amazing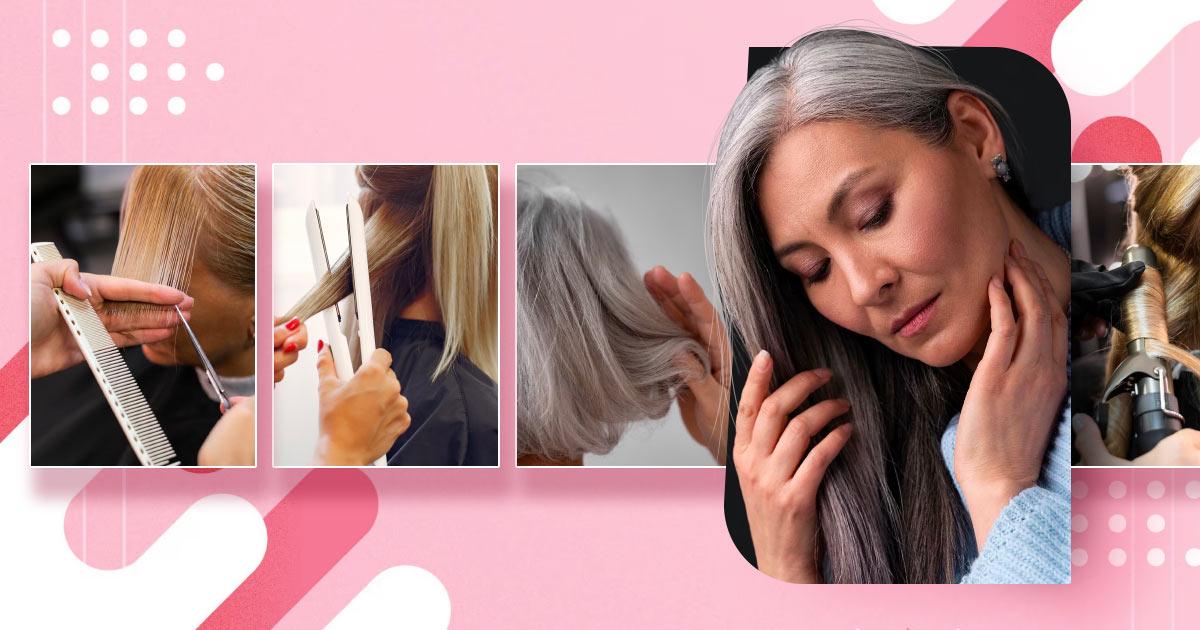 Unlock the allure of silver strands, but don't fret over the journey! Embrace the elegance of gray hair with these tried-and-true tips straight from the style gurus. Discover the secrets to effortlessly transitioning and watch your mane transform into a captivating silver masterpiece. Check out my growing out grey hair tips now!
Have you noticed that more and more women are rocking their natural gray hair these days? It's a trend we get behind! Just think about all the cash you'd save if you didn't have to touch up your roots every few weeks. Growing out of greys definitely has its perks. But I won't lie. It's a big commitment, and the time between can be uncomfortable. 
If you're ready to embrace your silver strands, I've got your back with some handy tips on gracefully transitioning into growing out grey hair.
1. Say Hello to Hair Cut!
If you're itching to speed up the transition to gray hair, one option in growing out grey hair is to go for a super short haircut. I'm talking really short here. Let about an inch of your gray roots grow out, then head to your hairstylist and ask for a pixie cut. If you're up for a dramatic transformation, this could be the answer you've been looking for!
I get it. Only some people are ready to make such a bold change in hair color and length. If you need more time cutting the grey hair, there might be better approaches to transition to gray hair. Don't worry, though. I have more tips to keep your length while gracefully transitioning to those beautiful silver strands. So keep on reading!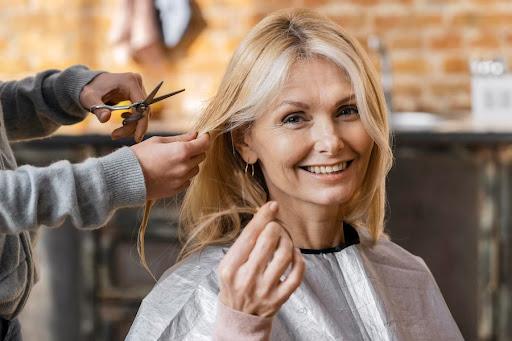 2. Get Some High & Low Lights!
Here's a surprising tip that goes against your instincts and can help you make gray hair grow out: Adding subtle color can make your transition to gray hair smoother. When you're getting close to embracing your natural gray, an intelligent move is to lighten your hair gradually. This way, your roots will blend in more gracefully as they grow. A skilled colorist can quickly achieve this using a lighter base color and well-placed highlights.
Now, a warning: Avoid warmer tones like red and strawberry blonde if you go from color to gray. These colors could backfire and create even more contrast with your roots. Trust this one because you don't want that. And while we're on the topic, avoid other common hair color mistakes too. Safety first, right?

3. Cover-Up Your Roots
But let's be real, growing out grey hair can require much effort and cash! Getting highlights done at the salon can be pretty pricey. So, if you want to save some money and skip salon visits, you have another option: independently grow your gray hair. I understand that sometimes you just want to give up and cover up those annoying gray roots. And guess what? I've got a nifty solution for that too! Enter root touch-up spray.
Root touch-up spray is a total game-changer. It's straightforward to use and dries quickly. All you have to do is spray it on your roots, and voila! Those grays are instantly camouflaged. The spray comes in different colors, so choose the one that matches the color of your hair (not the color of your roots), and the flexible color pigments will mix right in.
What's the best? Root touch-up spray washes out with regular shampoo and conditioner, so you don't have to worry about it leaving any unwanted residue on your beautiful gray hair. This method is a lifesaver if you need a quick and easy way to hide your roots while your hair turns gray. Trust me; you'll love it!
4. Get Some Hairstyles!
Whether you're on a mission to camouflage those grays or ready to embrace them fully, here's a tip: shake things up and experiment with different hairstyles that go beyond your usual everyday look. Think outside the box, like trying out a sleek ponytail, switching up your part to flatter your face shape, or rocking a brushed-back style that cleverly "hides" those roots. 
By changing things up, you have fun with your style and make the growing gray hair look effortlessly cool and purposeful. Who says blondes are the only ones who get to have all the fun? It's time to rock that gray with confidence and flair!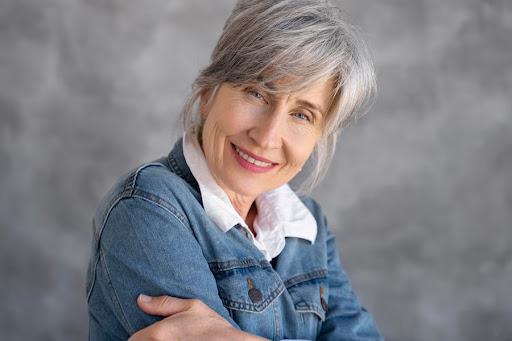 5. Don't Miss the Silver Shampoo
Listen up, folks! If you've got light hair, especially that beautiful gray hair I've been talking about, there's something you should know. Light hair receives a bit brassier, with those annoying yellow tones popping up. But fear not; I got a trick up our sleeves: purple or silver toning shampoo to the rescue!
Here's the deal: get a bottle of purple or silver shampoo that tones your hair. These special potions do wonders to eliminate those yellow tones you don't want. If you already have blonde hair, silver shampoo can help your gray hairs fit in with your blonde hair. It's like a beautiful symphony of hair!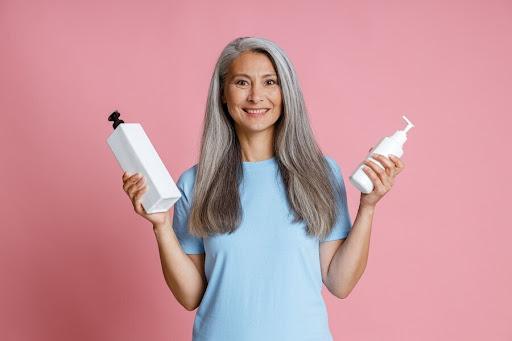 6. Accept & Embrace Your Gray Hair!
Last, let's talk about the ultimate way to dive headfirst into this gray revolution: fully embracing those fabulous silver streaks! It's time to let your grays shine and be the center of attention.
Growing out gray hair is no small feat, my friend. It's a significant change that requires some serious dedication. If your hair is longer than chin length, be prepared for a journey of at least one year to let those natural gray roots shine through. It's about more than how much time you have to give. Embracing your natural gray hair is also a profound shift in your identity for many women.
So, are you ready to make a statement and fully accept your grays? It's time to confidently rock that silver crown and show the world how beautiful and empowered you are!