7 Awesome Shell Crafts for Kids – Unleash Fun & Creativity This Summer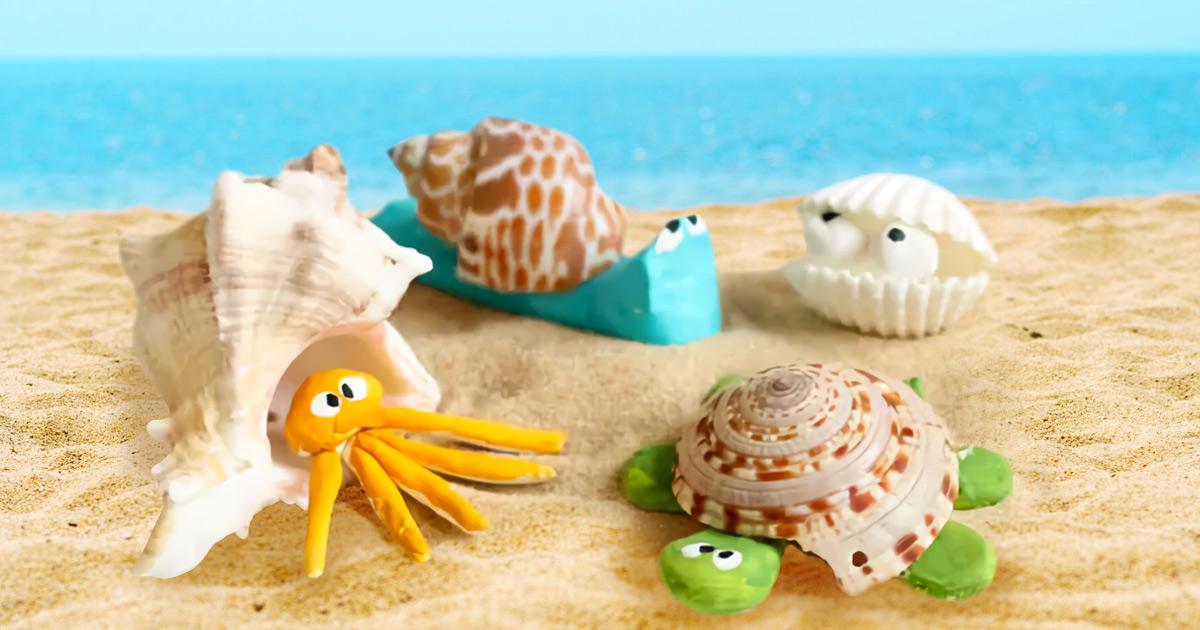 Do you know what's fun? Turn those beautiful shells you gathered during your beach adventure and start making some shell crafts for kids! It doesn't matter if you are a kid or just feel like one. 
There's something special about getting a little messy with glue and paint. You can turn those shells into fantastic mermaid accessories or create adorable fishy friends. These craft ideas will bring the enchantment of the ocean right into your craft time!
Here are some of the easy shell crafts you can do with your kids or the whole family:
1. Seashell Necklace
Starting the list of shell crafts for kids is by creating some seashell necklaces. If you're wondering what to do with all those lovely shells you collected during your relaxing day by the shore, I have an exciting suggestion. Let's transform those precious finds into stunning seashell necklaces or adorable keychains that you can proudly wear or show off to your friends.
The best part is that this craft project is fun and doesn't require many supplies. You'll only need a few items to start, making it a perfect activity for a creative afternoon or a fun bonding experience with family and friends. Plus, it's a fantastic way to give those beautiful shells a new purpose and preserve the memories of your beach adventure.
2. Fish Shells Craft
If you are looking for easy crafts with seashells that will bring the beauty of the ocean right into your home, then you must sign up for fish shells craft. Picture this: transforming those ordinary seashells into vibrant and colorful tropical fish! It's fun and creative shell crafts for kids that excite your DIY time.

All you need is some paint and many seashells to get started. Get out your best glasses and let your mind wander. Want a bright blue fish with stunning stripes? Go for it! How about a pink and yellow fish with polka dots? The choice is all yours!
3. Shell People Craft
Are you seeking fun and imaginative shell crafts for kids? Well, I've got a fantastic idea that will have them using their creativity and turning shells into adorable little shell people that they can play with!
All you need are some shells (gathered from your beach adventures!), lolly pop sticks, and string. With these simple materials, your kids can let their imaginations soar and bring these shell people to life.
4. Seashell Turtle Craft
If you're looking for shell crafts for kids that will make their hearts soar, I've got just the thing for you. Get ready to dive into turtle fun with this excellent seashell craft!
Here's what you'll need: a shell (you know, one of those beautiful treasures you collected at the beach), some green paint, and green paper. With these supplies, your kids can turn that shell into a cute little turtle ready to swim into their hearts!
5. Seashell Pets
If you're a fan of seashells and looking for easy shell crafts to bring them to life, I've got just the thing for you. Get ready to create your shell pet that you can take anywhere, and the best part? It doesn't need any feeding or special care, even when you go on holiday! First, grab your favorite seashells you've collected from your beach adventures. Make sure to give them a good wash to remove sand or dirt so they're nice and clean for your craft project.
Now, let the creativity flow! Gather smaller shells or googly eyes to give your shell pet some personality. You can use glue or adhesive to attach these smaller shells as features like eyes or a nose. If you want to be extra artistic, cut out some cute ears from felt and glue them or tape them to your shell pet. These little touches will genuinely bring your shell pet to life!
6. Hand Seashell Keepsake
Another shell crafts for kids that will give the traditional handprint keepsake a new look. It's the perfect way to commemorate a beach trip with your kids and create lasting memories. Ready? Let's dive in! First, have your child press their hand firmly into the rolled-out clay. This will create a wonderful handprint that captures the essence of their little hand in time. Make sure they press down evenly to create a clear and distinct impression.
Next, it's time to add the seashell magic! Take those gorgeous seashells and start filling the handprint with them. Get creative and arrange them in any way that speaks to you and your child's imagination. This is where the beach memories indeed come alive as you incorporate the treasures you discovered together. Once the handprint is beautifully adorned with seashells, it's time to refine it. Grab a circle-shaped cutter or a small bowl and carefully cut around the handprint, removing any excess clay.
7. Shell Wall Hangings
Last, but definitely not the list of our Shell crafts for kids is by making shell wall hangings. It's a great way to personalize your home decor with shell art. Get ready to dive into the world of monogram wall art! It's a wonderful way to showcase your unique style and create a stunning keepsake that will be cherished for years.
You'll need a few essential materials to bring this idea to life. Start with a cardboard cutout of the letter you want to feature in your monogram. This could be your initial or the initial of someone you care about and want to remember. Then, get all those pretty seashells together and prepare to make something amazing.
So, are you and your kids ready to let their imaginations run wild and do lots of shell projects for kids? Feel free to show off your best seashell crafts here.