The Best 90s Icons Halloween Costume Ideas For Kids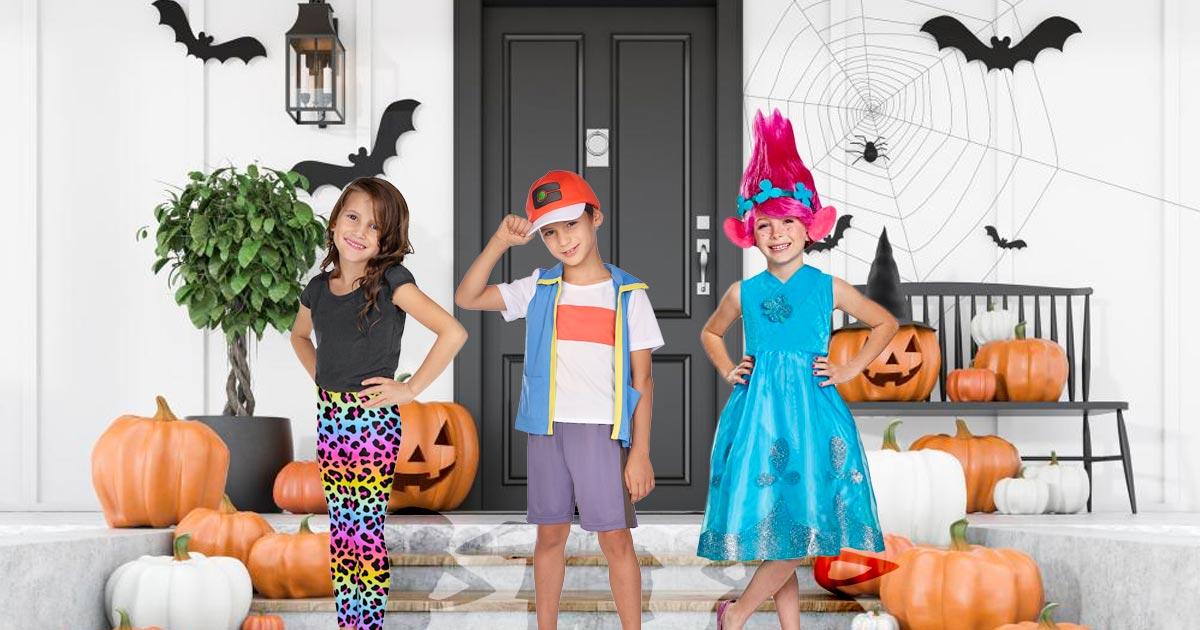 Are you prepared to embark on a nostalgic journey this Halloween? The 90s was an era filled with unforgettable pop culture icons and trends, making it the perfect inspiration for your little ones' Halloween costumes. From beloved TV shows to iconic movies and music sensations, there's a treasure trove of 90s nostalgia to choose from. Within this blog post, we have carefully selected and compiled a collection of the top 20 Halloween costume ideas for kids, inspired by the iconic figures of the 90s. So, dust off your Discman, put on your favorite grunge playlist, and let's dive into a world of retro fun!
20 90s Icon Costume for Halloween
1. Lisa Frank
Embrace the vibrant and colorful world of Lisa Frank with a kids' outfit that features rainbow hues, adorable animal motifs, and a touch of sparkle. This costume will transport your child straight into the whimsical universe of 90s kids' accessories and stationery.
2. Troll Doll
Let your little one channel the charm of these iconic 90s toys with a Troll Doll costume. Complete with wild neon hair, a funky outfit, and a big smile, this costume is a delightful throwback to the beloved collectibles that brought joy to many kids' lives.
3. Ed from Good Burger
Recreate the hilarious character from the hit Nickelodeon show with a Good Burger costume. Dress your child in an oversized burger outfit, complete with a matching hat and name tag, and let them serve up laughs and nostalgia all Halloween long.
4. Power Rangers'
Unleash the power of the Mighty Morphin' Power Rangers with a vibrant and action-packed costume. Your little hero can choose their favorite Power Ranger color and don the corresponding suit, mask, and weapon, ready to save the day in true 90s style.
5. Ash from Pokémon
Become a Pokémon Master with an Ash costume that captures the adventurous spirit of the beloved anime series. Complete with Ash's iconic cap, a blue jacket, and fingerless gloves, your child will be ready to catch 'em all and embark on a Halloween adventure.
6. Austin Powers
Groovy, baby! Transform your child into the ultimate international man of mystery with an Austin Powers costume. With a flamboyant velvet suit, frilly shirt, and groovy accessories, they'll transport everyone back to the swinging 60s, the 90s-style!
7. Dexter or Dee Dee from Dexter's Laboratory
Let your child step into the world of science and mischief with a Dexter or Dee Dee costume. Whether they choose to don Dexter's lab coat and glasses or Dee Dee's playful dress and ballet flats, they'll capture the essence of this beloved animated series from the 90s.

8. Cher Horowitz from Clueless
Clueless was the epitome of 90s fashion, and dressing up as Cher Horowitz allows your child to embrace the iconic style of the era. Think plaid skirts, knee-high socks, preppy blazers, and cell phones—this costume is sure to be buggin'!
9. Neo from The Matrix
Dive into the realm of cyberpunk with a Neo costume from the groundbreaking film, The Matrix. A sleek black trench coat, sunglasses, and a touch of hacker-inspired attire will transform your child into the chosen one, ready to navigate the digital world of the 90s.
10. Fred or Wilma from Flintstones
Go back in time to the Stone Age with a Flintstones costume. Dress up your child as Fred or Wilma Flintstone with their signature outfits and accessories, bringing Bedrock to life and adding a touch of prehistoric fun to Halloween.
11. Woody or Buzz Lightyear from Toy Story
Allow your child's imagination to take flight with a costume from the world of Toy Story. Whether they choose to be Woody, the loyal cowboy with a hat and boots, or Buzz Lightyear, the intrepid space ranger with wings and a space suit, they'll embark on an intergalactic adventure straight from the 90s.
12. Spice Girls
Girl Power takes center stage with a Spice Girls costume. Whether your child channels Sporty, Scary, Baby, Ginger, or Posh Spice, this costume captures the essence of 90s pop culture with colorful, platform shoes, bold outfits, and a whole lot of attitude.
13. Wayne's World
Party on with a Wayne's World costume inspired by the iconic duo from the Saturday Night Live skit turned movie. Your child can rock a shaggy wig, a rock band t-shirt, ripped jeans, and a baseball cap, embracing the laid-back and comedic vibes of Wayne and Garth in the 90s.
14. Beanie Baby
Bring the nostalgia of the 90s collector craze to life with a Beanie Baby costume. Your child can dress up as their favorite plush toy, complete with a furry jumpsuit, a Beanie Baby tag, and oversized cute ears. It's a costume that combines cuteness and throwback charm.
15. Carmen Sandiego
Set off on an exhilarating global escapade with a Carmen Sandiego costume, immersing yourself in a world of mystery and intrigue. Dressed in a red trench coat, matching wide-brimmed hat, and mysterious sunglasses, your child will embody the enigmatic and elusive thief from the popular 90s educational video game and animated series.
16. Harry Potter
Step into the magical world of Harry Potter with this enchanting costume. Your child can dress up as the famous young wizard, complete with a black robe, round glasses, a lightning bolt scar on their forehead, and a wand. Whether they're Gryffindor, Ravenclaw, Hufflepuff, or Slytherin, they'll feel like they're attending Hogwarts School of Witchcraft and Wizardry.
17. Michelangelo from the Teenage Mutant Ninja Turtles
Cowabunga! Your child can transform into the fun-loving and pizza-obsessed Michelangelo from the Teenage Mutant Ninja Turtles. With a green jumpsuit, a turtle shell, an orange bandana, and nunchucks, they'll embody the energetic and hilarious personality of this iconic 90s hero in a half-shell.
18. Lloyd or Harry from Dumb and Dumber
Get ready for some hilarious antics with costumes inspired by Lloyd Christmas and Harry Dunne from the comedy film Dumb and Dumber. Whether your child wants to dress up as the goofy and lovable Lloyd in his iconic orange tuxedo or as the endearing but clueless Harry in his powder blue suit, these costumes are sure to bring laughter and joy to Halloween festivities.
19. Ghostface from the Scream
It's time to add some fright to Halloween with a Ghostface costume inspired by the horror film franchise Scream. Your child can become the menacing masked killer, complete with a black hooded robe, the Ghostface mask, and a prop knife. This chilling costume is perfect for those seeking a spooky and suspenseful night of trick-or-treating.
20. Aladdin or Jasmine from Aladdin
Let your child's imagination soar with costumes inspired by the beloved characters from Disney's Aladdin. Whether they choose to become the charming and adventurous Aladdin in his classic street rat attire or the independent and enchanting Jasmine in her vibrant princess outfit, these costumes will transport them to the magical world of Agrabah and make their Halloween truly magical.
Let your Kid enjoy dressing up as 90s Icons
The 90s was a decade that brought us a plethora of unforgettable stars and cultural phenomena, and what better way to celebrate that than through Halloween costumes? From magical wizards to animated turtles and everything in between, the 90s icons Halloween costume ideas for kids showcased in this blog post offer a delightful trip down memory lane for parents and a chance for little ones to embody their favorite characters from a bygone era.
So, whether your child wants to cast spells like Harry Potter or defend the city as a Teenage Mutant Ninja Turtle, these 90s-inspired costumes are sure to make a splash at any Halloween party or trick-or-treating adventure. Unleash the creativity, embrace the nostalgia, and let your kids shine as they pay homage to the stars of the 90s.
Get ready for a Halloween filled with rad outfits, iconic catchphrases, and memories that will last a lifetime. Dress up your little ones in these fantastic 90s icons costumes and let them experience the magic of an era that will forever hold a special place in our hearts. Happy Halloween, and may the 90s live on through the next generation of kids who are ready to rock their way into a night of spooktacular fun!