15 Top Novelty Gift Ideas For Your Baby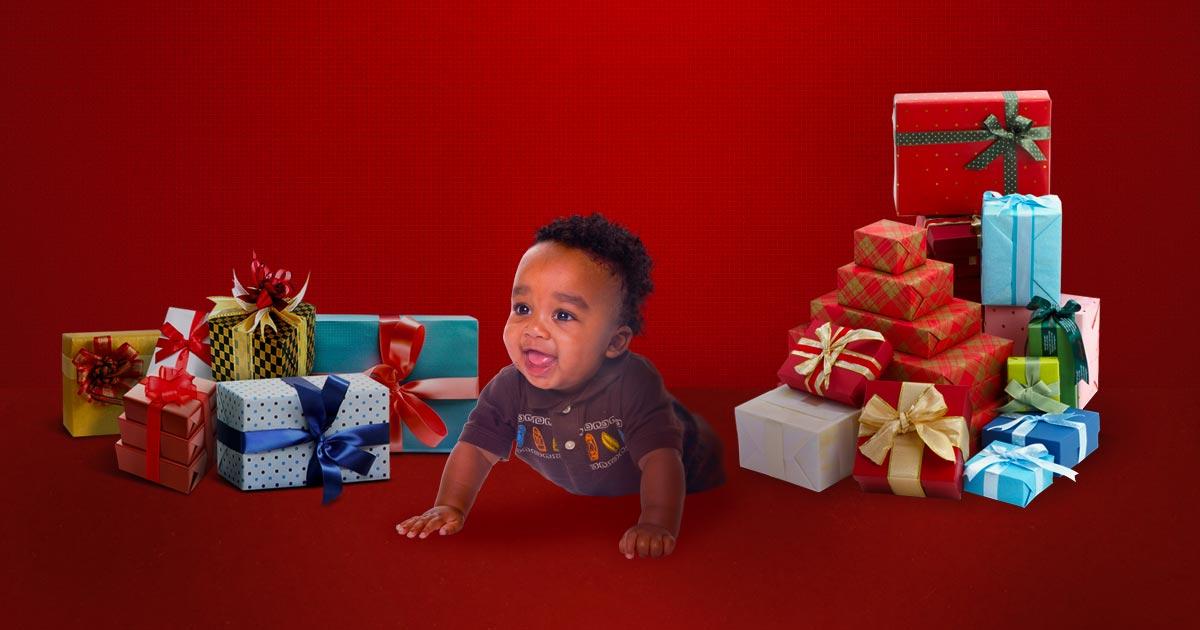 Join us in this blog post as we delve into the realm of novelty gift ideas for babies and toddlers. We recognize that discovering the ideal gift for the young ones can be an enjoyable yet demanding endeavor. That's why we've curated a list of 15 top novelty gift ideas that are sure to bring joy, entertainment, and a touch of whimsy to both babies and parents alike.
From unique toddler items to cool baby gear, these gifts will spark their imagination and create lasting memories. Whether you're shopping for a special occasion or simply want to surprise a little one with something fun and out-of-the-ordinary, we've got you covered. Now, let's immerse ourselves in the enchanting realm of novelty gifts designed specifically for babies!
15 Novelty Gift Ideas You Can Give To A Baby
1. Fred Buff Baby Dumbbell Baby Rattle
This novelty baby rattle is designed like a mini dumbbell, giving your little one a "muscle-building" experience while they play and shake it.
2. Baby Aspen 4pc Bath Time Set
Make bath time an enjoyable experience with this adorable bathtime set, which includes a hooded towel, washcloths, and a rubber duck for splashing fun.
3. Lhedon Flannel Tortilla Baby Blanket
Wrap your baby in this soft and cozy tortilla blanket, designed to resemble a giant flour tortilla. It's perfect for cute photo ops and snuggle time. 
4. Baby Shusher
Help soothe and calm your baby with the Baby Shusher, a device that mimics the comforting sound of a mother's shushing to lull them to sleep.
5. Fisher Price 3 Set Taco Tuesday Toys
Let your little one's imagination run wild with this taco-themed toy set that includes a rattle avocado, a crinkle taco shell, and a clacker lime.
6. Bumkins Nintendo Game Boy Silicone Teether
This teether is designed like a classic Nintendo Game Boy, providing relief for teething babies while adding a touch of nostalgia for gaming parents.
7. UGG Kids Bixbee Bootie
Keep your baby's feet cozy and stylish with these adorable UGG booties, featuring a soft lining and an easy-on, easy-off design.

8. Skip Hop Baby Phone Toy
Introduce your baby to their very own phone with this interactive toy that plays music, lights up, and features colorful buttons to engage their senses. 
9. Yeaye Crawling Crab Baby Toy Gifts
This cute crawling crab toy will encourage your baby to crawl and chase after it, promoting their motor skills and providing hours of entertainment.
10. Puj Tub Foldable Baby Bathtub
Make bath time a breeze with this foldable and compact baby bathtub that allows for easy storage and provides a safe and comfortable bathing experience.
11. YAPROMO Funny Toddler Orthodontic Mustache Pacifiers
These pacifiers feature quirky mustache designs, adding a touch of humor to your baby's pacifier time while soothing their need to suck.
12. North Face Baby Bear Jumpsuit
Dress your little one in this adorable bear-themed jumpsuit from The North Face, keeping them warm and stylish during outdoor adventures.
13. FridaBaby NoseFrida the Snotsucker
Help clear your baby's stuffy nose with this innovative device that safely and hygienically removes mucus, providing relief for both baby and parents.
14. Patches Vegan Leather Jacket
Your baby can rock a trendy and edgy look with this vegan leather jacket, perfect for adding some style to their outfits.
15. Montessori Tissue Box Sensory Toy for Baby
This Montessori-inspired toy encourages fine motor skills and sensory exploration as babies pull out soft and colorful fabric "tissues" from a soft cube-shaped box.
Discover Unique & Cool Baby Gear
We hope this collection of 15 top novelty gift ideas for babies has inspired you to discover something truly special for the little ones in your life. From personalized storybooks to interactive plush toys and everything in between, there are endless possibilities to delight and engage their curious minds. These novelty gifts offer a unique twist on traditional baby items, providing entertainment, sensory stimulation, and a dash of whimsy.
Remember to consider the age appropriateness and safety of the gifts you choose, ensuring they are suitable for the developmental stage of the child. Whether it's for a birthday, baby shower, or just because these thoughtful and creative gifts will surely bring smiles and treasured moments. So go ahead, explore the world of novelty gift ideas, and make your little one's day a little more magical!