8 Creative Ways to Give Gift Cards & Cash for Celebrating Graduates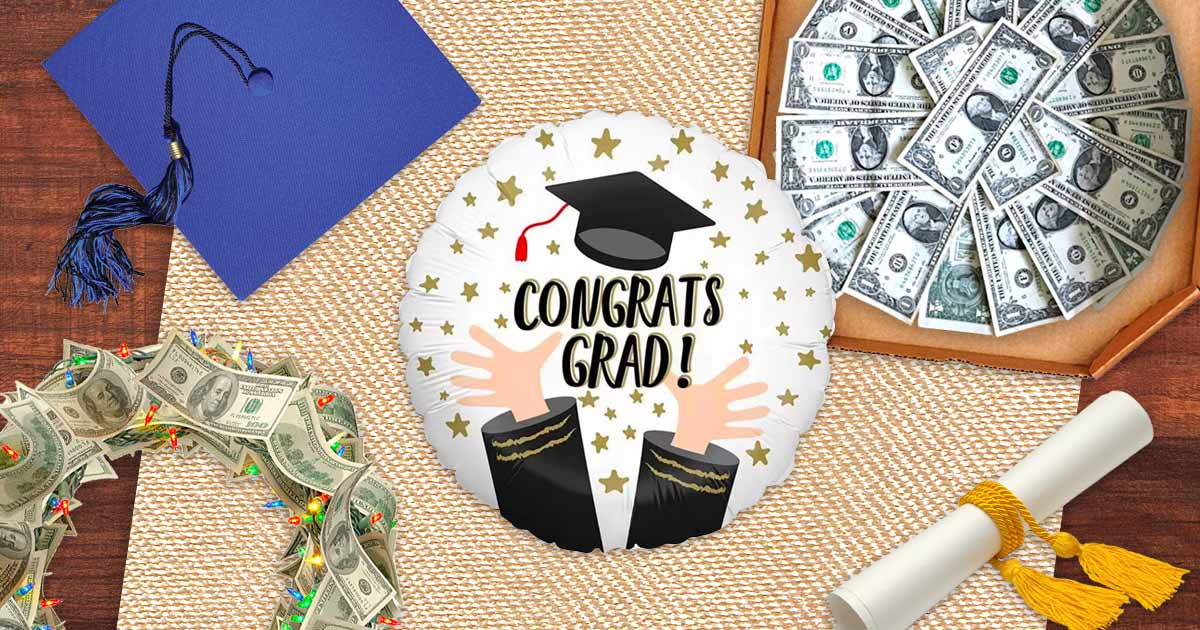 The act of graduating is a significant event, symbolizing the completion of extensive efforts and unwavering commitment over a span of years. It is an opportune moment to rejoice and acknowledge personal accomplishments. While traditional gifts and cards are always appreciated, giving cash or a gift card can provide graduates with the freedom to choose something they truly desire or need. However, if you want to make your monetary gift more memorable and creative, there are numerous ways to do so. Discover eight innovative and creative methods to present monetary gifts or gift cards as tokens of congratulations for graduation.
From mini diplomas to personalized bookmarks, these ideas will make your gift unforgettable and bring a smile to the graduate's face. Get ready to celebrate their achievement in style and show them how proud you are with these fun and unique gift-giving options!
One creative way to give gift cards or cash for graduation is by using a money jar with dollar diplomas. By taking a mason jar and filling it with dollar bills cleverly rolled up to resemble miniature diplomas, you can create a delightful gift. To add a finishing touch, place a paper graduation cap and tassel on top. This unique presentation adds a touch of whimsy and excitement to the gift, making it a memorable and fun way to celebrate the graduate's accomplishments.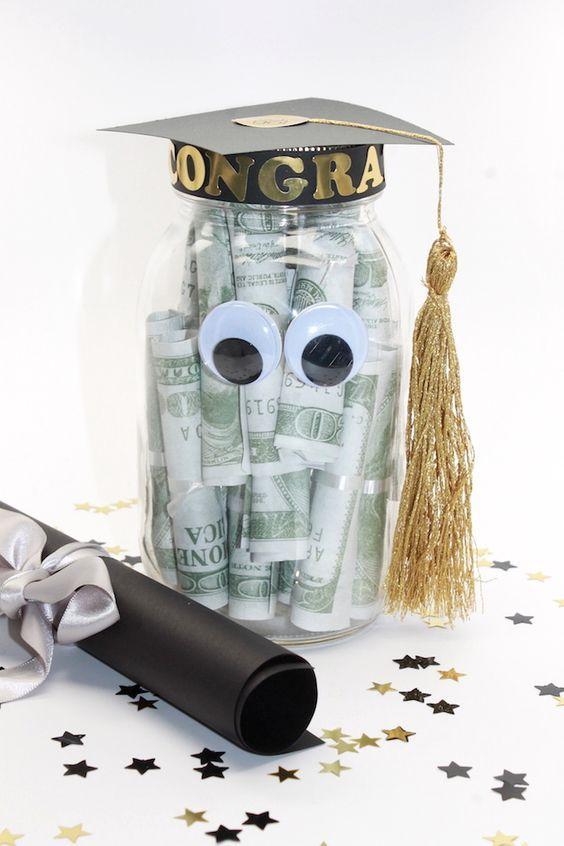 Another creative way to give gift cards or cash for graduation is by creating a "Money Pizza." Simply take an unused pizza box and arrange the cash or gift cards in a circular shape to resemble a pizza. Add a funny quote or a congratulatory message to make it even more special. This unique presentation adds a playful and clever twist to the gift, making it a memorable and lighthearted way to celebrate the graduate's accomplishments.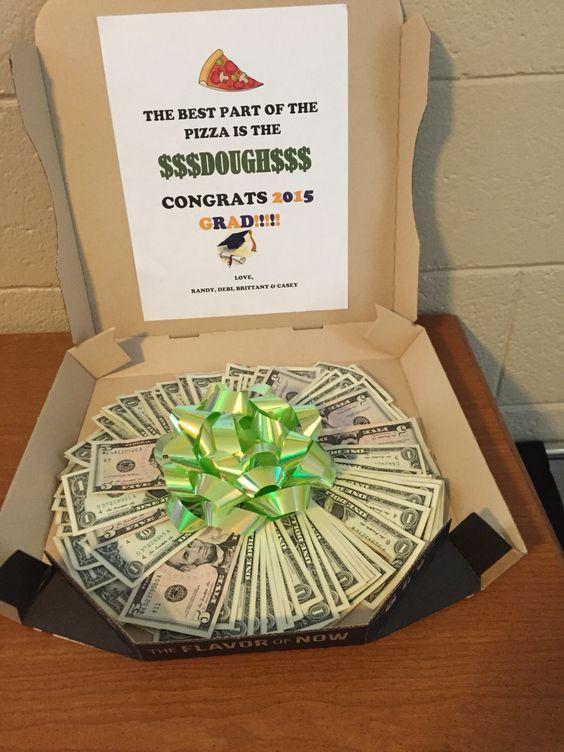 Looking for a creative way to give gift cards or cash for graduation? Consider making a Money Wreath! Wrap the bills to resemble diplomas and arrange them on a wreath frame. This unique and adorable gift can be customized to any desired amount and is incredibly easy to assemble. The recipient will be delighted by this one-of-a-kind present, ensuring that they receive something truly special and memorable during their graduation celebration.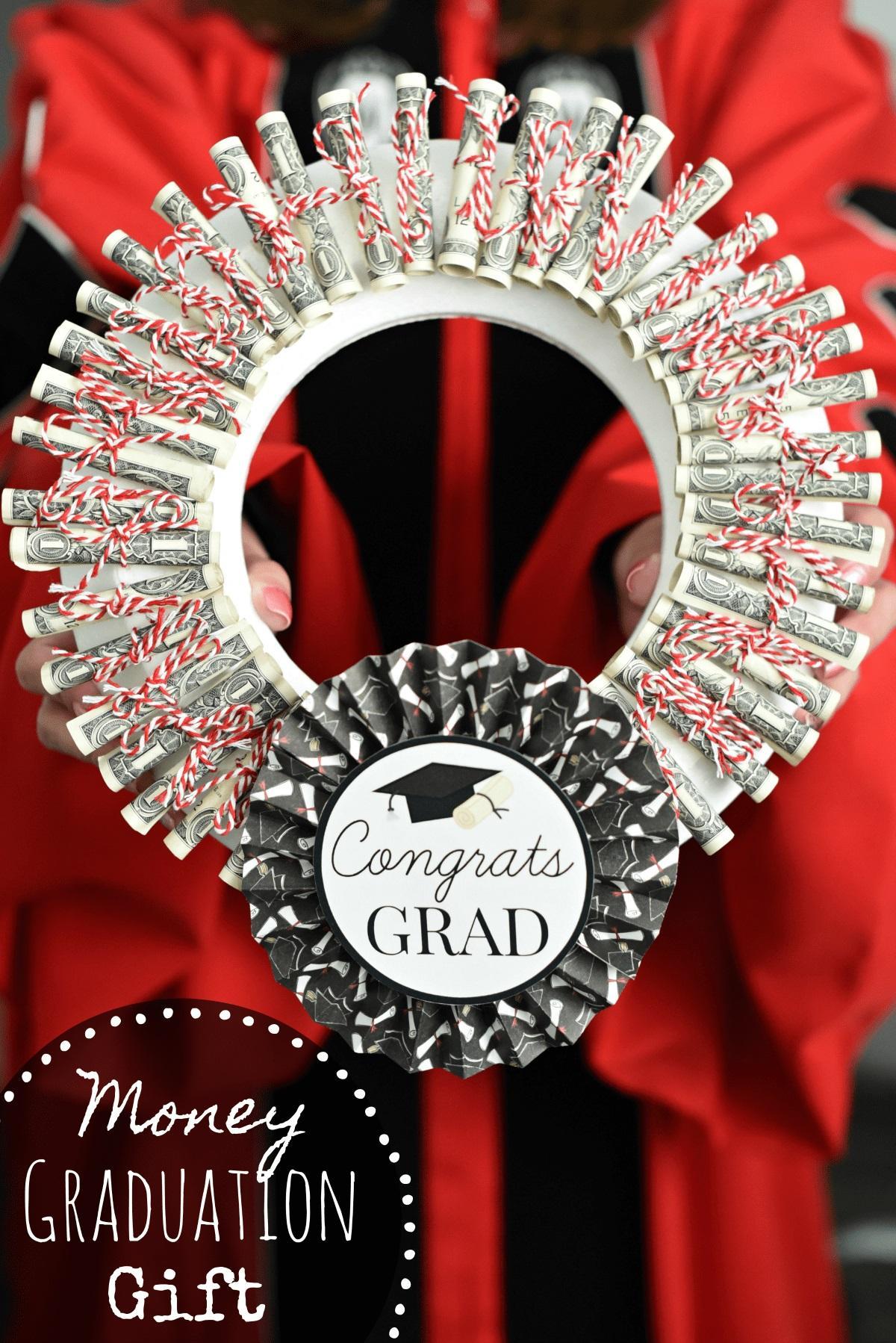 One incredibly creative way to give gift cards or cash for graduation is by presenting a Money Cake. This DIY Graduation Cheers Cash Cake is sure to impress the recipient at their graduation party. With a two-tier cake shape and 20 slots to hold rolled money, this grad cap cash holder stand kit offers a unique and exciting presentation. Assembling the cake is a breeze, and once completed, it serves as a memorable centerpiece that combines celebration and monetary gifts, making it an extraordinary gift idea for any graduate.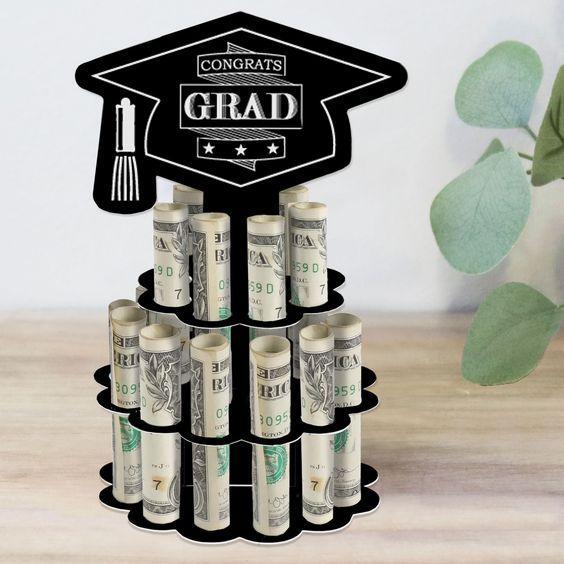 Another thrilling and creative way to give gift cards or cash for graduation is to try Money Balloons. This exciting and interactive gift involves trapping money inside a balloon filled with confetti. It's a joy to witness the recipient's surprise as the balloon pops, revealing the confetti and the hidden treasure inside. Whether it's for a milestone birthday or a high school graduation, this unique gift idea adds an extra level of excitement and makes the gift-giving experience more memorable and enjoyable for everyone involved.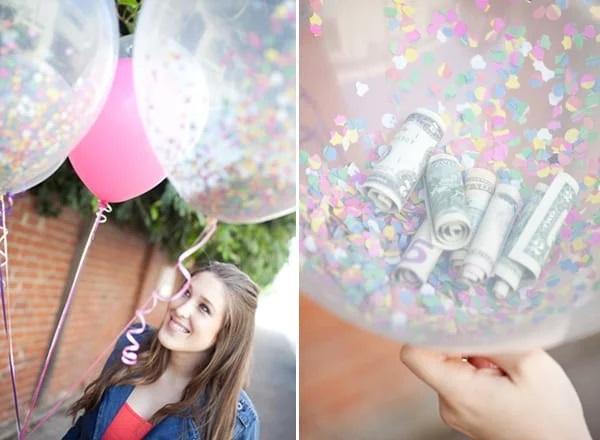 Consider putting together a "Party Box" filled with all the essential party items. This DIY graduation gift basket includes candy, silly string, party favors, a gift card, and even a piñata for extra fun. By assembling these exciting items in a cute and colorful box, you can create a personalized and fantastic graduation gift. This versatile gift idea allows you to customize the contents and budget according to the recipient's preferences, ensuring a memorable and enjoyable celebration.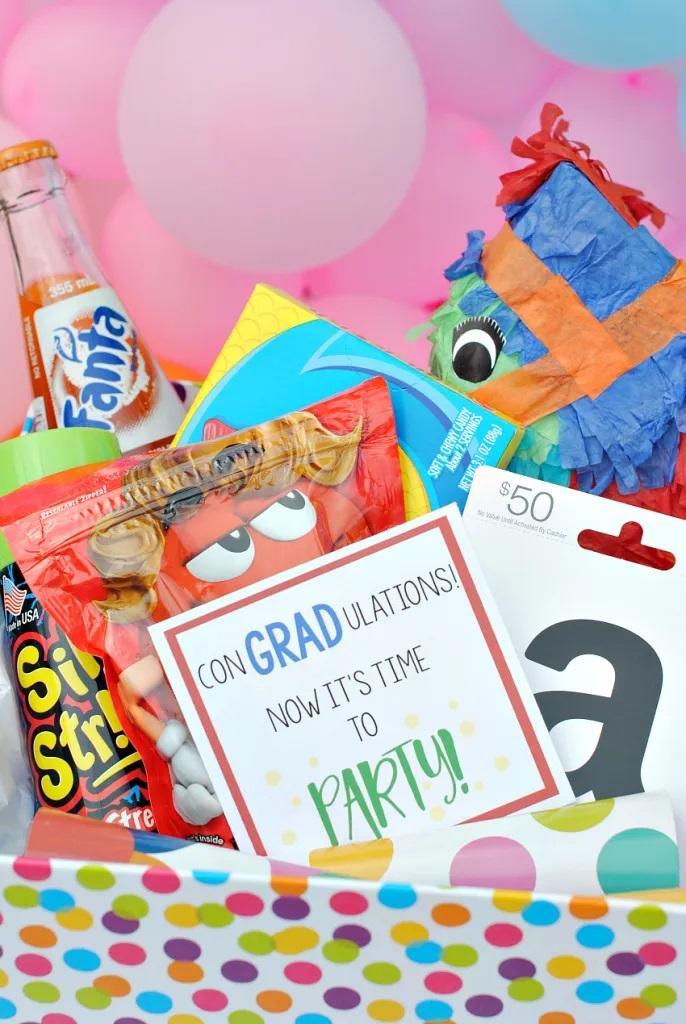 Another unique way to give gift cards or cash for graduation is creating a Graduation Frame. This creative gift idea involves using a picture frame with a mat to attach gift cards using clothespins. By painting the clothespins and adding a personal touch with hot glue, you can customize the frame to match the recipient's style. This easy-to-assemble gift offers a fun and visually appealing presentation, making it a memorable and thoughtful graduation gift that the recipient will truly appreciate.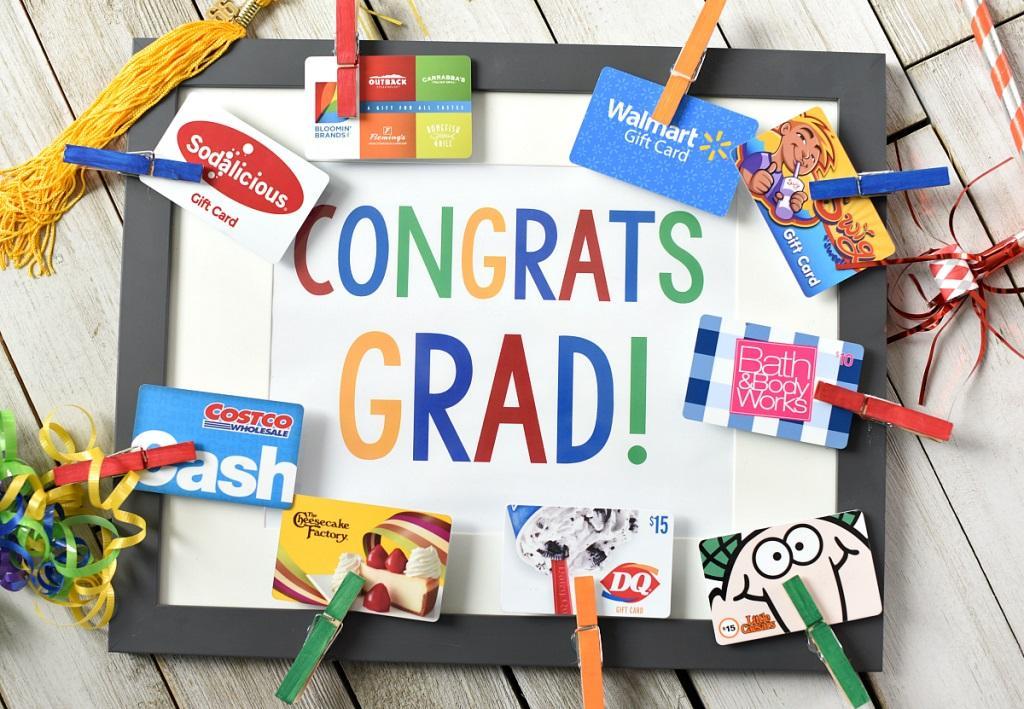 Unique Graduation Gift Card & Money Gift Ideas for a Memorable Celebration
In conclusion, these unique and creative ways to give gift cards for graduation offer a delightful twist to traditional gifting. From money jars with dollar diplomas to money wreaths, money cakes, money balloons, party boxes with gift cards, graduation frames, and more, these ideas add an element of surprise, excitement, and personalization to your gift. 
Trying out these creative gift-giving methods will surely make the graduation celebration even more special and memorable for the recipient. So go ahead and unleash your creativity to make the graduation gift-giving experience truly unforgettable.